September 25, 2007
Dear Supporter,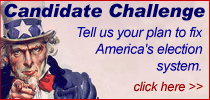 Today, Why Tuesday? starts a new chapter in its push for election reform. Just minutes ago we launched our brand new website — featuring a new, interactive documentary video blog. Each week, we'll be posting a new episode about problems with (and proposed solutions for) our broken voting system.
But we need your videos to force change. Since we began, we've been traveling the country asking two simple questions, "Why do we vote on Tuesday?" and "What can we do to fix our broken voting system?" Now, we need you to go out and get the answers. Ask your mayor, state or national representative, city councilman, anyone willing to share their thoughts — and get it on video. Become a Why Tuesday? correspondent:
www.whytuesday.org/correspondents
This morning, in our premiere episode, we issued our "Candidate Challenge," asking ALL of the presidential campaigns to outline their plans for election reform in a video response. All 17 camps (8 Democrat, 9 Republican), have until October 30th to submit their videos. And we're going to call them out if they ignore our challenge.
But this movement starts with you, and it starts in our local communities. Currently, voting regulations and processes are set by the states and by local governments. That's why we need you to go out and ask your local representatives (mayor, alderman, state representative, whomever) what they aim to do about our broken voting system. Imagine the national discussion we can generate if we blanket the country with people just like you, asking the tough questions.
Will you become a Why Tuesday? correspondent?
www.whytuesday.org/correspondents
Our correspondents will be featured on our new website: www.whytuesday.org. Please visit the site, watch our premiere episode (from Colonial Williamsburg), and take the challenge.
We're fixing our voting system, one question at a time. But the movement begins with you.
All the best,
Jacob Soboroff
Executive Director, Why Tuesday?